You will love Christmas in Germany
We would like to invite you to a wonderful and last event of INSIGHT Mannheim: We want to bake Christmas cookies together, listen to a Christmas message, drink mulled wine and listen to German Christmas songs. You will enjoy it! You will love Christmas in Germany!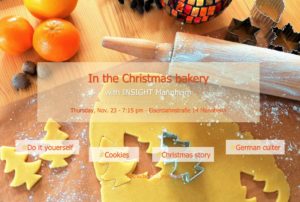 Location:
Because we need two large ovens, this event will take place in this church rooms. Follow this link – http://www.feg-mannheim.de/74925-2 – and you will find all the information how to find this Church building on the homepage.
FeG-Gemeindezentrum
Eisenbahnstraße 14
68199 Mannheim
Time for Christmas
Our event will start at 7:15 pm on Thursday, November 23, 2017. Everything we offer is free of charge. If you have any further questions, just send us an e-mail. We are looking forward to see you!
Insight Mannheim
Small Group Discussions & Cultural Activities
Web: http://www.smd-mannheim.de/international
Facebook: Insight Mannheim
E-Mail: insight.mannheim@gmail.com
WhatsApp and Phone: 01575 32 88 173 (Stefan Schnabel)
Be blessed!
Your INSIGHT Team